The McArthur River Mine Contractor Management System process is completed in two parts:
Business detail registration; and
Worker registration.
As part of worker registration, you will select the worker's work role at McArthur River Mine and book their online induction.
A nominated administrator from your business will be required to complete the steps below in the Contractor Management System.
User guides with screenshots can be found on the Help and Resources page.
Let's get started!
Step 1 > Business registration
Click the button above to go to the system.
Start by selecting the country your business operates in, and then search for the ABN
Enter contact details, including email and business address and phone number
Select Request Registration to have the business registration verified and be emailed login details
Already have an account? Click here
If you do not know your login, please contact Pegasus 1300 306 384 or email glencore@pegasus.net.au.
The next steps are to add your workers to ensure their compliance to work at McArthur River Mine.
A few notes before you register your workers
Medical requirements
The McArthur River Mine medical requirements are listed in the below table: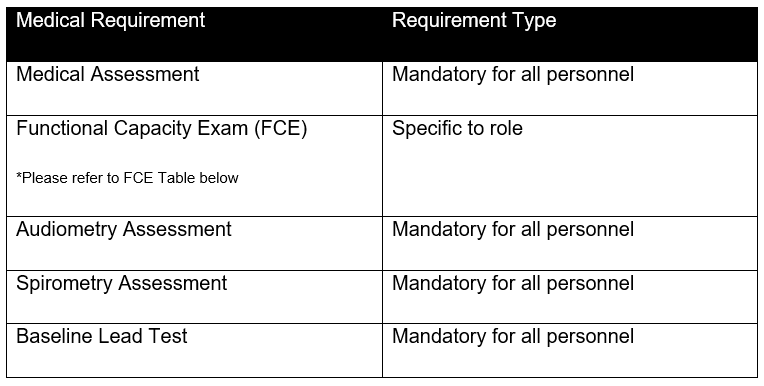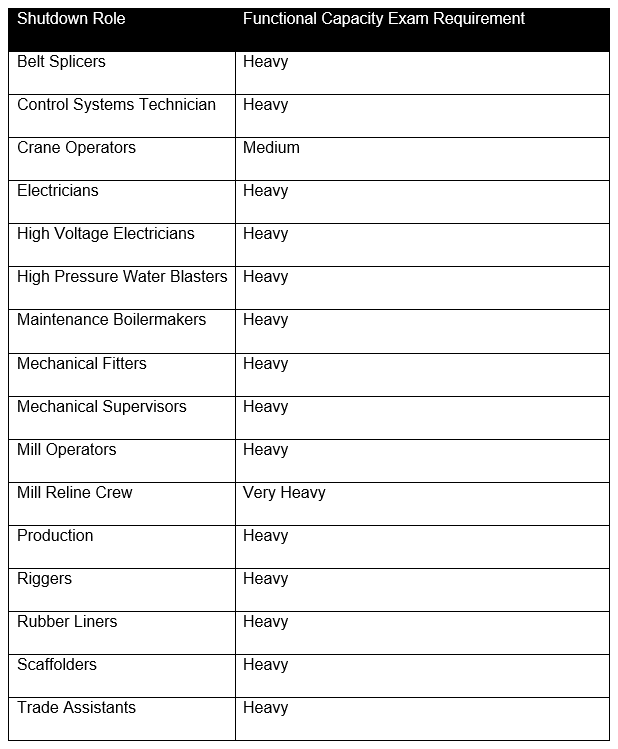 All completed medical requirements are to be sent to: mrmmedicalcentre@glencore.com.au
To ensure prompt processing, please send one email per worker including all five (5) completed medical requirements.
Email addresses for your workers:
Please ensure that the email address for your worker is correct.  This ensures that they will successfully receive their training invitation.
Next of Kin details for your workers:
If providing a landline for Next of Kin, please ensure the area code corresponds to the residential state. Or, please provide a mobile contact number.
Photographs for your workers:
Please ensure that the photographs meet the MRM business rules.
Step 2 > Add workers/contractors
Taking note of the above, with your business is registered you can login and add your workers in the system!
The below steps describe how to add your workers and ensure their compliance to work at McArthur River Mine.
Start by selecting Manage Employees and then Add New Employee. From here you can enter and save the worker's key details, including:
personal contact details
address
phone number
email.
Worker registration (including induction bookings unless otherwise stated) costs $170 + GST per person and supply of card. Annual renewal is $75 + GST.
Step 3 > Add roles, upload documents and book induction
Select the worker's name to Add New Role, and choose MRM Mine Worker – Contractor.
Upload a photograph and proof of ID for each worker.
Once the proof of ID has been validated, the mandatory online inductions will be booked and a link sent to the worker's registered email address.
Online inductions must be completed prior to travelling to site. There are five (5) mandatory competencies that must be complete. These are:
MRM Site Induction (renewed every 3 years)
Annual Compliance (renewed every 12 months)
Code of Conduct (renewed every 12 months)
Conflict of Interest (renewed every 12 months)
Working with Cultural Differences (only required to do once)
For technical support , please contact Pegasus on 1300 306 384. For all qualifications, please forward to aumrmcompliance@glencore.com.au
Note: To complete the registration, you must proceed through the checkout, but there will be no charge.
Pegasus validates documents and applies roles
Pegasus will validate the information you've entered for workers during registration. You'll be emailed if there are any issues and given a chance to update the information. Upon approval, the role will be applied to your workers in the system and their access ID cards available to pick up from MRM Training Department.
You may also wish to invite your registered employees to the Worker Portal, where they can manage their own compliance. Simply select the Invite Employee option from their profile. Visit the Worker Portal page for more information.
It's important that you keep company and worker details up to date, so you'll be emailed when you need to renew a subscription to maintain compliance.
Ending employment
Reminder: If a worker leaves your company, please ensure you end employment in the Contractor Portal.